Business coaching is my passion, and the people I coach are important to me. Consequently, on any given day when a client and their team reap concrete rewards in their workday, because of something I taught them yesterday—it absolutely makes my day.  
They are truly speaking my music when they tell me they are seeing the benefits in their business processes and leadership style and choices. Growth and transition are experienced in varying degrees and more quickly with some companies/teams than others, as was the case when I had a recent zoom call with the COO and CEO of a company I work with and coach. 
Of course, it's all well and good for clients to take notes on what I teach and accept that they need change and new learning around specific areas of their business, but they reach a whole new level as business leaders when they begin to apply the methods I teach at Leading Edge Teams. It's a highlight for me (and for them) when they come to our next coaching session with proven results. 
These particular clients are learning how to create, use, and rely on our training around the MEETING AGENDA tool. Immediately, they experienced some good changes in their business, which in turn are invaluable for achieving the greatest business outcomes. It might be a bit dramatic to say it's "life-saving," but clients learn as we work together, the methods that save them time and help to make their business more efficient often feel that way—new tools and skills "calm the choppy waters" for them personally and professionally.    
The meeting agenda is rather simple, but a specific tool that has been a revelation for them, as one primary change has been implemented. 
So, what are they doing? 
The COO is saving herself and the team, time and frustration as she commits to quickly assess issues that are brought to her attention each day by using two criteria: 
a) Decide whether it's "house on fire" and must be dealt with right now, today. 
b) Decide to put it on the agenda to deal with at the next weekly meeting, to collectively discuss, problem-solve and decide, or provide an answer.
As she consistently communicates (and turns it into habit), those two criteria keep her informed and responsive to the team's needs, and eliminate confusion and unnecessary messaging. The team knows to expect that as COO, she will take action and deal with it now, or she will put it on the weekly meeting agenda to address at that time (when the company brings in the team to collectively think and make decisions together to achieve business results).
The benefit for the COO is that the team doesn't hesitate to communicate concerns or questions, because they know it will get her attention within a reasonable amount of time that day. And with the COO's new skill of assessing (the issue, question or decision needed), and by prioritizing when to deal with it, she has a reliable place to hand-off for dealing with it later. Obviously, this helps to limit the things that cause long hours and daily overload, something all business entrepreneurs and teams need to keep in check.
This uncomplicated skill is a relief for business leaders: If it isn't a "house on fire" issue, it's put on the meeting agenda, confident it won't be forgotten, nor will it cause them to wake up at night in a panic. It's effectively let go of, for that moment, reducing feelings of overwhelm and stress. 
This is just one example of how you can make the most of your meeting agenda. Let it help you prioritize your daily "stuff" that comes up this week. I invite you to give it a try.    
And… to achieve efficient, productive meetings, follow this agenda structure. It will set you up for success! (Remember to distribute your meeting agenda ahead of time, so those attending can prepare.)
First on your agenda: Quickly talk about the

outcomes

that were achieved, the important

deadlines

coming up, then

surface the things that are off-track,

along with a

quick mention of the things to be addressed

that were added to the agenda during the week.

Next,

problem solve, especially those things just mentioned as off-track or needing to be addressed.

Surface and discuss other challenges and obstacles that may get in the way or prevent your team/company from achieving their goals.

Next on the agenda is

"major or cross-functional decision-making

," or more specifically, the kind of decision making that needs more than one person's input to understand impacts that will or could happen, so that the team involved can all be informed and on the same page to discuss or work through those as they move forward. 
(Note that problem solving (#2) and major decision making (#3) are crucial for a good meeting, so plan on them taking up 65 to 70 percent of your meeting time.) 
This next agenda item is super important but often forgotten:

recap the meeting and confirm decisions

. Don't miss this step, or there can be confusion about what was talked about vs. what was decided, leading a team member to take the wrong action or assume someone else has the ball. So, in this step go back and confirm the decisions that came out of the problem-solving in the meeting. Also note what questions were not answered and when they will be addressed.

Now,

"clarify next steps and upcoming actions."

This is where those in the meeting say out loud, one by one, what their next actions will be, to confirm that everyone involved clearly understands their parts and that the team is aligned in those actions. Any discrepancies? Make corrections. 

Next on your agenda.

"Align communication and coordination" for execution outside the meeting

. This step is critical, because it's how decisions made INSIDE the meeting get shared and communicated clearly with the people OUTSIDE the meeting. 

Now, the very last step in your team meeting agenda is to

evaluate

whether the meeting itself was effective. Ask "How was this meeting?" Welcome brief feedback. If it's all positive, smile and be glad. If improvement is needed, make changes next time. And lastly,

share appreciation

for each other; point out the positives!   
I encourage you to remember that your meeting agenda serves many purposes. It helps keep you all connected, and it keeps you afloat during the week and directs the course until the next meeting. Utilize your agenda this way and I bet you'll see, you have way less "house on fire" experiences in your work day.  
Thank you for reading and learning along with me. When you make the most of any tip I share, just know you're speaking my music! 
Barbara
Questions? I welcome you to ask me below.  
For a personal introduction to our coaching and methods, check out our series of leadership journals on Amazon.com: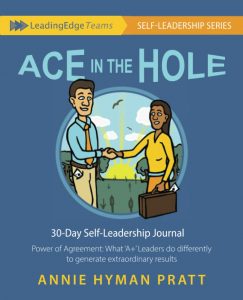 30-Day Self-Leadership Journal #2
Power of Agreement
What A+ Leaders do differently to generate extraordinary results.
30-Day Self-Leadership Journal #1
How to be a thriving 'A+'  Leader in the fast paced,
ever-changing landscape of business today.